Hey, how are you doing today? Ceramic material-made plates are designable and pretty beautiful. That's why every homeowner and restaurant owner loves to use ceramic plates. We all use ceramic plates every day for serving food and breakfast. There are lots of ceramic-made kitchenware available in the market. Such as ceramic bowls, ceramic plates, ceramic dinnerware, and more. But sometimes we need to put ceramic plates in the oven. Can you put ceramic plates in the oven to warm up your food? This article will answer your question, can ceramic plates go in the oven? Let's hit into the article to get the correct answer.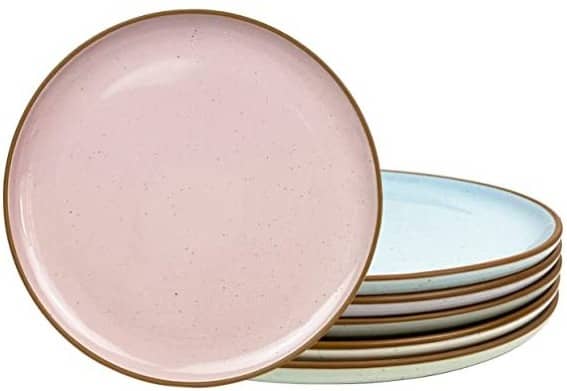 Can you put ceramic plates in the oven?
Yes, you can put your ceramic plates in the oven. Most of the ceramic plates are oven-safe. But some of them are not oven safe. Some plates are oven proof, and some are not oven safe. How to tell if ceramic plates oven-safe?
There is some consideration to know that will inform whether your ceramic plates are oven safe or not. Ceramic plates are made with ceramic clay, firing at the right temperature. Then, they painted it well and brought it again. There are some factors to be your ceramic plates high-temperature oven safe. Check out those factors.
The thickness of your ceramic plates:
It is a factor for your ceramic plate to be oven safe. You need to check your ceramic plates' thickness before putting them in the oven. You should buy a thick ceramic plate if you want oven-safe ceramic plates.
A thick ceramic plate heats slower than thin plates. And it can protect the integrity as well. So, a thick ceramic plate heats up very slowly when placed in the oven. Also, it will cool down slowly when you remove it from the oven. That's why thick ceramic plates aren't breaking when you warm up your delicious foods. Read more about how to paint ceramic plates.
Check out the ceramic plates label:
All the ceramic plates have a label bottom of the plate. You should check the label as well before purchasing it. You'll see the bottom of the sticker if it is oven safe. So I suggest checking for the label marked bottom to know whether it is ovenproof or not.
How to use a ceramic plate in the oven safely?
I want to say that most ceramic plates are oven-safe or microwave-safe. When you put your plate in a microwave or oven, be careful in it. Follow these safety tips below to know how to use a ceramic plate in a microwave.
First, preheat the oven or microwave at a normal temperature.
Place your ceramic plate in the oven safely and close it as well.
Let the ceramic plate warm up as well.
Use the temperature control button to reduce or up the temperature settings.
Do not use up to 400 degrees Fahrenheit temperature
Microwave it for 1 to 5 minutes as needed.
Turn off your microwave or oven from the electric socket.
Take off microwaved ceramic plate from the oven.
Place in a normal temperature place and serve your warm food!
Safety tips for using the ceramic plate in the oven
We've already noticed that the ceramic plate is oven and microwave-safe. But there is some cation to know before we make a mistake. I hope these actions will help you use your plate in the oven.
Ensure your ceramic plate has no metal on it.
Do not use high heat if your ceramic plate is glazed.
Not recommended to use up to 400 degree
Do not use china or bone plates in a microwave
Do not put cold food on a heated plate. It might cause a crack in the plates.
Are Ikea ceramic plates oven-safe?
Ikea is a brand of ceramic plates. It is oven-safe, microwave safe, and dishwasher-safe. You can use this item in an oven to preheat your food. But not every ceramic dinnerware, not oven or microwave safe. You should ensure the microwave status before placing the item in a microwave to avoid an accident. Again, my suggestion will be to check the item label to make sure.
How long can you leave the ceramic plate in the oven?
An oven is the most common method to warm your food or bake something. When it comes to the ceramic plate has some limitations. You can't leave your ceramic plate in an oven for several hours. If you did it, it might be cracked or brock cause of heat.
To safely use, you can place the plate in an oven from 140 degrees F to 190 degrees F for about 15 minutes. Carefully remove your plate when heated to 190 degrees F. It may burn you when you touch it. When the temperature goes up to 400 degrees, it will be cracked.
Which materials are safely put in the oven?
Some of the materials are oven safe, and some of the materials are not. To identify which material is safe for oven use, check the list below. It may give you knowledge about oven-safe materials.
Stoneware
Glass
Ceramic
Enameled cast iron
Silicone baking mats
Stainless steel
Can you put the ceramic plate in a microwave?
You may want to know, is ceramic plate microwave safe? The answer is "yes." Yes, the ceramic plate is microwaveable. You can microwave your ceramic utensil as well. However, avoid putting any types of ceramic materials in a microwave. For a good result, check the user manual from manufacturers.
Final words
I have done a lot of research to get the exact correct results. Can ceramic plates go in the oven? The question is, can you put ceramic plates in the oven? I hope you got the answer as clear as water. Last week I got a question, can you put ceramic plates in the microwave? That's why I also answered it above. Thanks for being with us in a long way. Comment below your microwaving experience with us. Have a wonderful moment!