All You Need to Know About Nexgen Ceramic Spray- 2023 update
I was wanted to write a review of Nexgen ceramic spray for a long time. Though detailers have been using this for over ten years, consumers can purchase them from 2019. Due to some good reason this new player of the town has spread so easily & accepted by most consumers.
I become excited to write my impression on this stuff soon after I have my experience with it. I will try to explain every important fact about the sprayer that I witnessed.
If you want to reseal your car, let me introduce you to a ceramic spray that will astonish you with its performance. The impenetrable layer that this pro-grade ceramic creates saves your vehicle from marks, scratches, degradations, & streaks. And thus, you can own the protected paint and coating over time. It also repels the dust & keeps your car's clear look stays longer. Read more, best ceramic spray wax.
Note: Nexgen Company will charge you $12.50 per month while you're subscribed to their monthly subscription.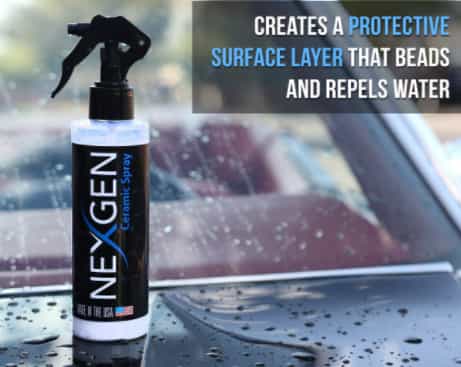 What does make the product stand out from the crowd?
The present amount of silicon dioxide in the spray is why it has tremendously increased sales, demand, & revenue in the last year.
Silicon Dioxide creates a protection layer of nanoparticles on the car's exterior that saves the car from outer effects, like water, grime, bugs, pollen, grease, salt, & even hazardous UV rays of the sun.
So, the more silicon dioxide (SiO2) a product has, the more useful it is. So, this is the first noticeable point that makes the product so much demandable.
Among many other products that I have used have 1% of Silicon Dioxide, whereas, Nexgen astonishingly contains 13% of Silicon Dioxide. This high percentage of the component protects the car for a longer time, keeping it hydrophobic (water repealing features) with a shiny pro-grade look.
List of The Best Nexgen Spray In 2021
Nexgen Premium Ceramic Coating for Cars Finishing Spray
Nexgen Premium Ceramic Car Wash Soap
Nexgen Quick Detail Spray – auto Detailing car Shine rejuvenator
Nexgen Waterless Wash – Premium Quality car wash, Polish Solution, Professional Showroom Shine
Nexgen stays 4-times longer than

any

other traditional car sprays
It's not like you have never experienced any sprayers that don't last long. What do I mean by longer? Any traditional car sprayers available in the market repel the dirt and leave a good appearance for a few days.
Do they stay longer? Well, they might be. The time may extend up to a few weeks if you are lucky enough. That's not long enough. How about your own ceramic stuff that lasts for a couple of weeks, or even months?
Yeah, you heard it right. This stuff can last that long. So, what's making it last that long. The additives present in the product with 13% SiO2 are responsible for this feature. Read more, Mothers ceramic spray
So, this is another reason for the product's demand.
Users don't have to coat their vehicles multiple times in a month. So, what's making you hang on any other car sprayer?
Like any other user, I also doubt the product's claim at first. After giving it a try five months ago, it managed to impress me.
In this gap of 5 months, I gave my second application two months ago, and it's still shining like the first application. So, it gives no less when you are talking about longevity.
Where can you apply the stuff?
When you go through the instruction of clear coat stuff, you will always find the claim to be suitable on any exterior surface, which is most of the time a fake advertisement.
I don't want to mention the name, but there was a product that claims to be suitable for tires, headlights, and so on. However, it leaves many micro-scratches & streaks when I used that on the headlight.
Later on, I hoped for the long-lasting Nexgen to be suitable on any exterior, as we don't want to spend on multiple products for multiple surfaces.
Nexgen claims the same as other products to be suitable on any exterior, and I was skeptical about that. As my past experiences with those lie advertisements left a bad impression on me, I can't believe Nexgen.
I gather some confidence and give Nexgen a try on different surfaces. The output was unexpected. I hoped but never expected Nexgen to work on every surfaces I tested. Nexgen amazing passed every test and left me speechless.
The glasses, the plastics I tried on have no streaks or scratches at all. I was even able to shine up the interior dashboard.
What's the process to use Nexgen ceramic spray & how long can it take?
Most car care stuff follows the same procedure of shaking, spraying, sitting, and waiting to dry. Do you expect Nexgen to do the same?
Nexgen has the fastest application and drying process than any other ordinary stuff in the market. At least, I have no doubt about it.
This stuff is all about spraying, wiping using a microfiber towel. Then flipping to the dry side and buffing out. That's all. The ones out there with a busy schedule like me will be lucky to have this product.
What's the drawback?
Is Nexgen ceramic spray faultless? Every innovative creation has its drawback. As a user of Nexgen, I am very much satisfied with the service. But there is a thing that irritating.
Due to high demand, you might hear the word stock out most of the time or may not if you are lucky enough. But you have to get used to the shipment delay it causes.
It may take 5-6 days as well. Good stuff has high demand so, get used to it.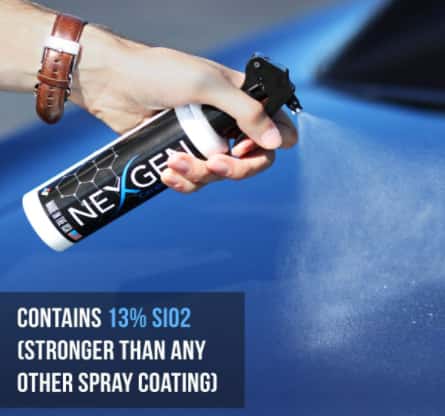 Check The Latest Price on Amazon
Let's talk about the service that Nexgen's customer service provides
It's a pretty important point to know how much the service is helpful when you have any problem with the product or need any help.
Many don't care about customer service as long as the product is good, though it's important for me. Many times you need help, even still, the stuff is super good.
As I was testing this product, I have many questions that weren't available on the packaging. I called them which was immediately received. A person replied to me every question about their product with detail and, of course, patience. Also read, how to apply coating on the car.
You could often find the service giver to be rude and knows nothing about the product they are selling. But, with Nexgen customer service, I never face such kind of unpleasant situation.
Want to know a cool side? The CEO sometimes answers the query of users on social media for his customers, which is satisfying.
What's the price of Nexgen Ceramic Spray?
If you get their 40% off deal, then it will only cost you $19.95 for the bottle of 8 oz. You can coat a mid-size car with it four to six times. That means a bottle can last eight to twelve months; isn't it a good investment?
If you compare the price with a pro-grade 9H application, Nexgen is 95% cheaper and nearly powerful.
In a word, Nexgen Ceramic is an all-in-all for me regarding longevity, strength, value, and customer service. That's why this stuff is crushing the competitive market.
Many of us look for a money-back guarantee when it comes to "give a try." Relax, this one also has one. The 30-days money-back guarantee lets you have a risk-free try.
Nexgen Ceramic Spray Pros
It gives 4-times more longevity than any other ordinary sprayers.
It gives a protective shield from the sun and UV-rays.
One bottle can last up to twelve months.
This one has the fastest and easiest application ever.
This one is much cheaper than any other pro-grade stuff while having nearly the same strength.
Nexgen Ceramic Spray Cons
It doesn't matter how easy the application is; you can't afford to use the stuff incorrectly. Or else, it may leave a rainbow effect.
The shipment takes time due to high demand.
Verdict
As I said above, Nexgen Ceramic Spray is all-in for me. I'm not going to change this one as long as I find something far better than this. This new innovative creation is a time saver and money worth.
And of course, by best, I mean, this one keeps a perfect balance between performance and cost. You can go for something pro-grade like a 9H applicator. It will be an open crime if I say Nexgen is better than 9H.
9H gives the most ceramic protection. You can go for it if you have enough time and money. This one can cost you something between $300-$600, depending on your vehicle's size. Once you do this, you have to redo it every year. In this way, you can provide maximum protection to your car.
Now you get it when and what to choose, and why you should try Nexgen. It's a total money-worth product that you will never regret buying.